Maria - Catford
Location Catford
Instagram @edwardiancorbett
"The best thing about Catford is the incredible sense of community", says interior designer Maria Lapuerta Rodriguez, who took on the challenge to renovate an Edwardian property in the Corbett Estate that she and her architect husband fell in love with. These days, she juggles projects for commercial and residential clients through her growing company, Rodriguez of Holland, with ambitious designs for her dream home. Follow her inspiring home renovation journey, in both English and her native Spanish, on Instagram @edwardiancorbett.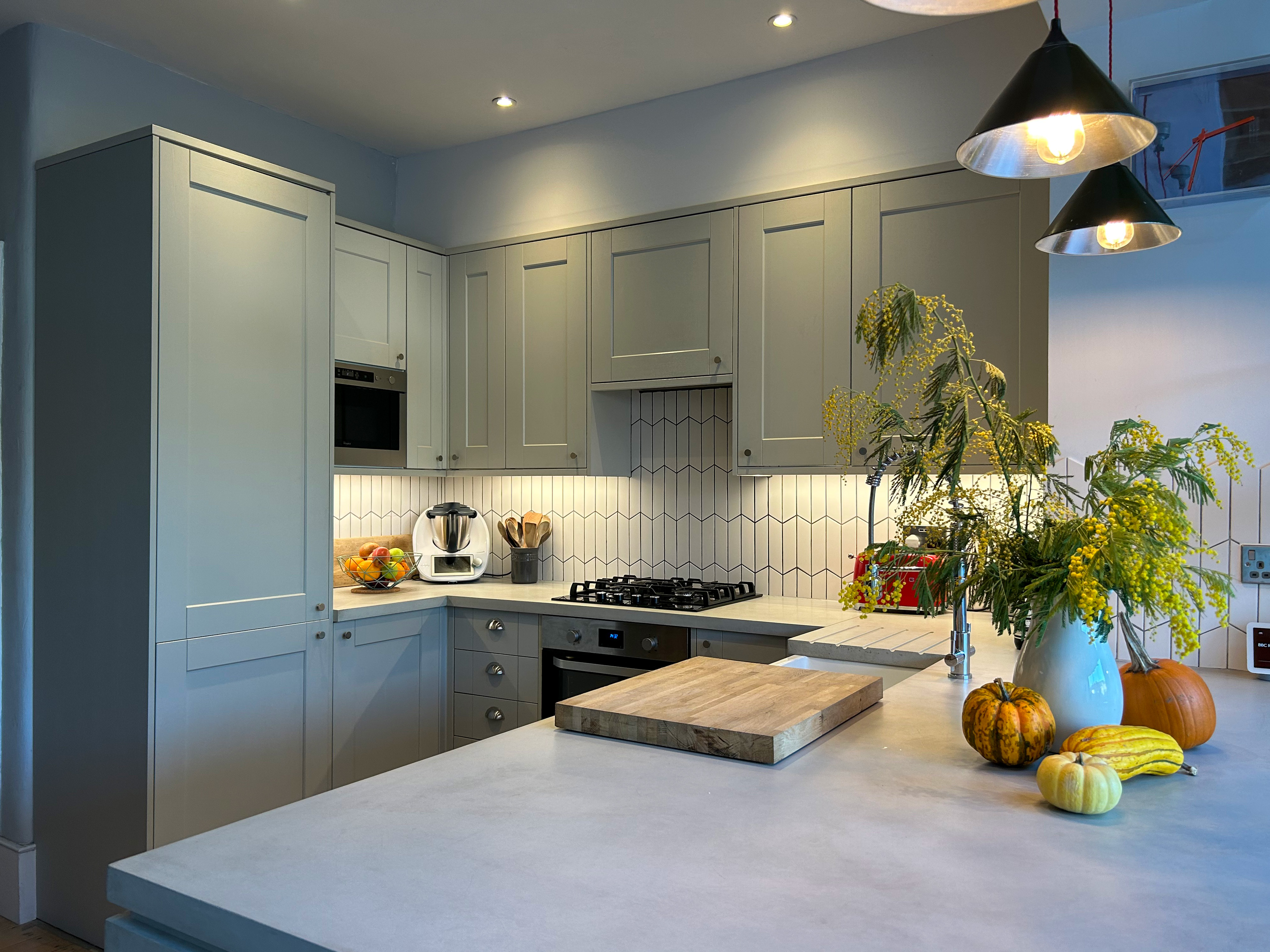 1. How did you come across your current home - and what ultimately convinced you to make the big move?
I was pregnant, and we wanted to have the baby in our new home. We looked at around 40 houses in Catford as we tried to get a good feel for the area. We used to come almost every weekend to explore the neighbourhood and see if we liked it. We had to make a decision and ultimately found this Edwardian property that needed loads of work - we saw so much potential and fell in love!​
2. Was Catford on your radar before finding your dream home here? What's the best thing about your new neighbourhood - or something you wish you had known beforehand?
My husband is an architect, and we knew his old practice was involved in the regeneration of Catford, so we thought it could be an excellent place to invest our money, thinking about how much the area would change in the following years. The best thing about Catford is the incredible sense of community, which was nothing like what we experienced before in our old neighbourhood of Bermondsey. I wish we knew how difficult it is to get a spot in the nursery for our kids; although there is an excellent childcare choice, it gets booked up very quickly!​
3. What have been your biggest challenges so far during the renovation? And the thing you're most proud of?
Renovating a house with two young children can be challenging, and we like to do quite a bit ourselves. For specific jobs, we need to ensure the kids aren't home because it might be dusty - that's the trickiest element. The part I'm most proud of is probably all the bits we've done ourselves, little by little - the wallpaper, paint, garden, furniture restoration, etc.​
4. You're an interior designer, and your husband an architect. How big an advantage - or a challenge - has that been in the process?
My husband was able to pull some favours, so we saved on some fees in getting our planning application for the kitchen extension! Having the architect at home is quite handy in that sense. It also helps that I've planned things from the start, which allowed us to save some money—for example, the kitchen. When we first moved, we had to change the room, and I planned it so that none of the units needed to be replaced when we were doing the kitchen extension. We didn't want to pay for a kitchen twice! The challenging part was agreeing on specific designs of choice of materials... as designers, we both thought our idea was the best!​
5. Is there an insider tip or two you can share with people wishing to renovate their own homes?
Yes! My advice is to plan everything well and not rush your decisions. If you don't know what you are doing, get professional help - It will save you money in the long term, not having to do things twice!​
6. Tell us a bit about your personal journey. How did you get from studying interior design in Madrid to settling in south-east London?
Since starting my degree, I have wanted to come to London for a while. For the experience and the language. I planned to be here for one year and then return to Spain, where I'm from. But I met my now-husband, and that changed all my plans.​
7. How have these different influences shaped your interior design style?
There is something about British interior design that has always attracted me. The way they preserve the buildings and the essence of a period home has always been something that I was interested in. My style is quite eclectic. I like mixing high-end design furniture with Ikea and some vintage touches. I adapt pretty well to the briefs I get from my clients.
8. How would you describe your London lifestyle?
Busy. We have always planned to do this with the kids. From visiting National Trust locations in the countryside to seeing the last exhibition at the Tate Modern or The White Cube, some of my favourite museums/galleries in London.
9. Describe a typical day in your job.
IIt varies. It depends if I'm doing a site visit, seeing a new client or doing computer-based work from my home office. I also try to go to my husband's studio at least once a week when I want to focus on doing client presentations, for example.
10. What's the next big step - either personally or professionally?
My company is relatively new after two maternity leaves, so I'm very focused on building a good client network. So my next big move would be showing the world the benefits of hiring my services as an Interior Designer, always giving a very personal and close experience to the client, whether it's a residential, commercial or office project.